Pareto Securities' annual Power & Renewable Energy Conference
On 28 February 2023, we connected experts in the power and renewable energy industry with investors to discuss and get updated on current trends and company developments. For the 25th consecutive year, we invited participants to learn more from the companies that will shape the industry and energy transition going forward.
Welcome to Pareto Securities' 26th annual Power & Renewable Energy Conference on January 18th, 2024.
Please reach out to your contact at Pareto Securities for more information about the 2024 conference.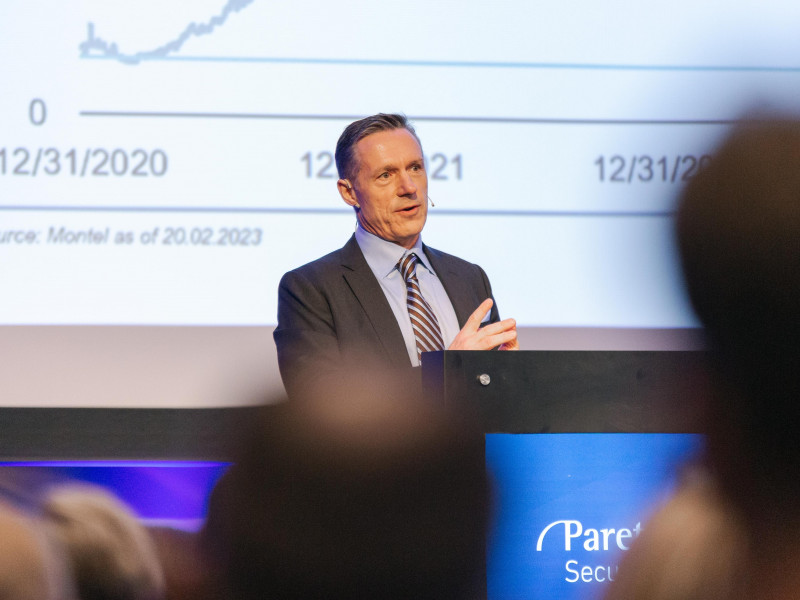 A pressing demand for energy and renewable investments
The path to net zero requires huge investments
Lars Ove Skorpen
Investment Banking at Pareto Securities
To return to a more normal and less volatile market, combat global warming and continue the energy transition, massive investments are required within all parts of the renewable energy space. We estimate NOK 400bn to be required in investments by 2030, in Norway alone. Looking at a subset of green sectors, like hydrogen, wind and solar power and carbon capture and storage, we see that all of them will face enormous growth possibilities.

Green companies will continue their growth and remain a key investment topic and opportunity. The development will continue to be fueled by regulatory support, and the growth will also be driven by demand and access to capital across all segments.
Listen in on experts in the renewable industry
During the conference, a panel consisting of President & CEO Hilde Tonne (Statnett), CEO Åslaug Marie Haga (Renewables Norway), CEO Tom Einar Jensen (FREYR), EVP Hydro Energy Arvid Moss (Norsk Hydro), and Member of Parliament Nikolai Astrup (The Conservative Party of Norway) discussed how to boost the energy supply for electrification and energy transition in a panel discussion.
The session was moderated by Pareto Securities' Lars Ove Skorpen, Director Power & Renewable Energy, Investment Banking.
Listen to a recording of the panel discussion as a podcast episode:
76
presenting companies in 2023
Updates on the Power and Renewable Energy Industry
76 companies from all parts of the power and renewable energy value chain presented at our full-day physical conference.
The conference featured presentations on current trends and development from companies such as Aker Horizons, Aneo, Cadeler, Cloudberry, Equinor, Elmera Group, FREYR, Hafslund, HydrogenPro, Magnora, Norsk Hydro and Hydro Havrand and Hydro Rein, InoBat, Orrön Energy, Seaway 7, NVE, Otovo, Pyrum, Pryme, Quantafuel, Scatec, Statkraft, Statnett, Volue, Vow and Ørsted. Additionally, we hosted keynote presentations from Statkraft CEO Hilde Tonne and FREYR CEO Tom Einar Jensen.
The Latest Trends in Battery, Offshore Wind, Hydrogen Carbon Capture and Storage, Waste-to-Energy and Power
During the conference, our equity analysts from the renewables and clean tech team, Bård Rosef, Kenneth Sivertsen, Gard Aarvik, Kari Eide Hartvedt and Jørgen Opheim, presented our views on the trends and latest developments in offshore wind, battery, hydrogen, waste-to-energy and carbon capture and storage sectors.
While you wait for next year's conference, log in to see the latest publications within renewables and clean tech.
Our website uses cookies for statistical purposes. By continuing to use our website, you accept the use of cookies. More information.
OK