Pareto Securities' 29th annual Energy Conference
The 2022 Energy Conference focused on energy security, the outlook for commodity prices and the vast opportunities as the energy transition plays out and provided a meeting place to discuss near- and long-term solutions to the energy crises.

165 companies from the energy sector presented, and nearly 1800 investors and industry professionals visited the conference. We at Pareto Securities are pleased to facilitate over 1200 investor meetings in two days.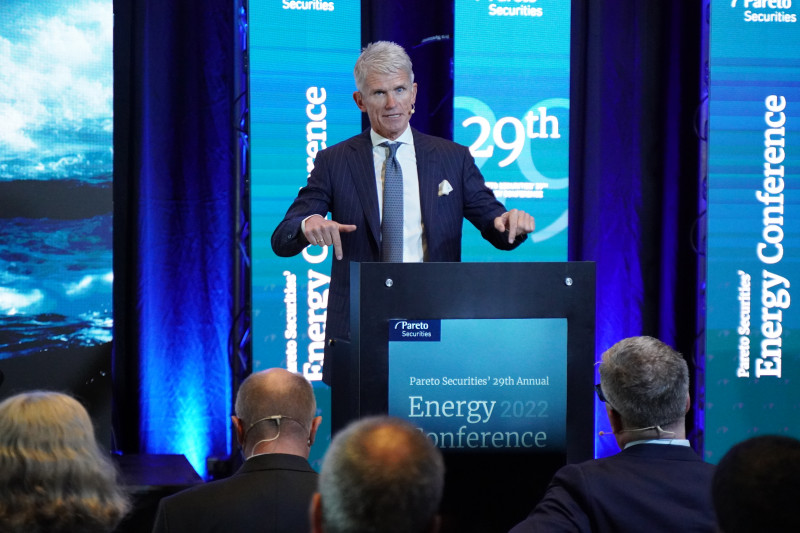 The Alarming Need for Energy Security
During the opening of our 29th Energy Conference, CEO Christian Jomaas discussed how we are entering a new super-cycle for energy. Oil and gas will be an important part of the energy mix for many years ahead, and we need to increase North Sea Investments.
We should use the current energy crisis to significantly speed up investing in energy – both renewable energy and oil and gas
The all-in cost for new onshore wind and solar is now 40 to 50 øre per kilowatt hour, making solar and wind very competitive versus fossil alternatives, even in normalized energy markets.
Combined with investments in the grid to facilitate energy transition, Norway can be as leading in renewables as we have been within oil and gas.

Pareto Securities' 29th Annual Energy Conference
Pareto Securities' Energy Conference is the largest of its kind in Europe, and attracted in 2022 a good 1,800 representatives from the energy industry, the political environment and the investor community. 165 companies presented during this two-day conference, representing the full breadth of the energy industry - from the traditional oil and gas companies to renewable energy developers and producers, as well as connected sectors like batteries and hydrogen.
Access to affordable energy has overnight become a key focus area given the European energy crisis and provided the basis for discussion at the 29th conference in Oslo, Norway. The venue also served as a meeting place where industry professionals and investors could discuss both near- and long-term solutions.
The latest developments within the energy space
During the conference our equity analysts will present their views on the trends and development within:
Energy services & Rig
Battery
Oil market
Electricity market
OSV
Carbon Capture & Plastic Recycling
Hydrogen
For clients of Pareto Securities: Log in to see the latest publications from equity research
Reach out to your Pareto contact if you haven't registered to attend at newly renovated Scandic Holmenkollen in Oslo.
Our website uses cookies for statistical purposes. By continuing to use our website, you accept the use of cookies. More information.
OK